[Revart, LLC]
[RevArt Nashville]
[908 Division Street Nashville, TN 37203]
[contact@revart.co]
For Immediate Release
Unleashing Creativity - Abstract Art in Nashville: A Solo Show with Local Artist Bob Stonehill at RevArt Nashville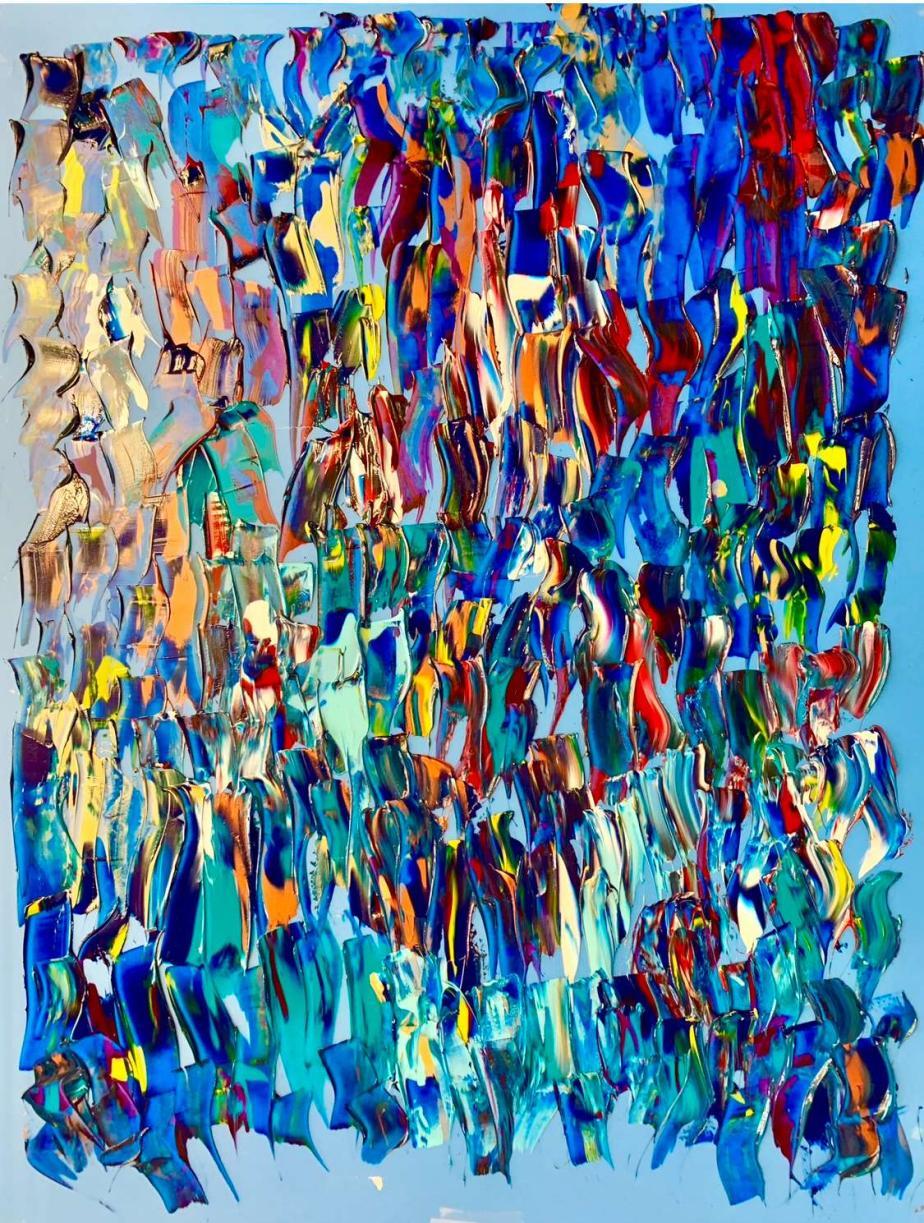 (Colors of the World by Bob Stonehill)
Nashville, TN— RevArt Nashville, a platform dedicated to supporting upcoming and minority artists, is proud to present "Unleashing Creativity: Abstract Art in Nashville," a solo show featuring local artist Bob Stonehill. The exhibition will take place from May 19th to July 2nd at Harlowe, a boutique apartment community in the heart of Gulch. The opening reception will be held on Friday, May 19th, at 6 p.m. at Harlowe Apartments, 908 Division Street, Nashville, TN 37203.
Bob Stonehill's art has been honed through years of experimentation and mastery, culminating in this unique opportunity to experience his evolution in abstract art. Stonehill's work features sculptures crafted from vintage items, such as skeleton keys and watch faces, shaped into hearts and words that convey a spiritual message. His work inspires diverse interpretations, and he intentionally refrains from titling his pieces, inviting viewers to interpret for themselves.
The exhibition promises to be a thought-provoking journey, showcasing Bob's mastery of abstract art and his ability to engage the viewer's imagination. The longer one gazes at his paintings, the more layers and hidden elements are revealed, from faces and shapes to animals, making for a captivating and ever-evolving experience.
"We're excited to host Nashville local artist Bob Stonehill's solo show as the first one in our Nashville space," said Patti Pan, founder of RevArt. "Nashville is a city known for setting trends and its vibrant culture." "We believe that art should not have boundaries and aim to bring different art styles to Nashville to generate conversation within the local communities."
Stonehill is equally thrilled about the show, saying, "I'm excited to be showing my work to the folks in Nashville." They're always setting trends, and a place like Harlowe is the perfect venue! "My hope is to take the audience on a visual journey, expanding their view beneath the surface."
In addition to showcasing emerging and established artists, RevArt also designs various art events and activities to encourage visitor engagement with the artwork. "Our goal is to show the residents of Nashville the essence of art, which can be both fun and meaningful to our community," said Pan.
Don't miss out on this exciting opportunity to experience Bob Stonehill's unique abstract art and the evolving journey it inspires. Come join us on May 19th for the opening reception at Harlowe, where you'll experience Nashville's thriving culture, music, and art.
For more information, please visit https://revert.co or contact us at contact@revart.co.
Opening Reception Registration Link
About RevArt Nashville
RevArt is a platform that supports upcoming and minority artists to advance their careers. Our goal is to make worldwide art accessible to everyone.
About Harlowe
Harlowe is a boutique apartment community in the heart of the Gulch, showcasing elevated interiors and artfully crafted amenity spaces. Surrounded by vibrant art, dining, and music, this beautifully appointed community serves as the perfect backdrop for our gallery, providing a truly immersive and memorable experience for residents, guests, and art lovers alike.